Fostering respect for nature and culture
Posted:
06. 10. 2020 - 9:09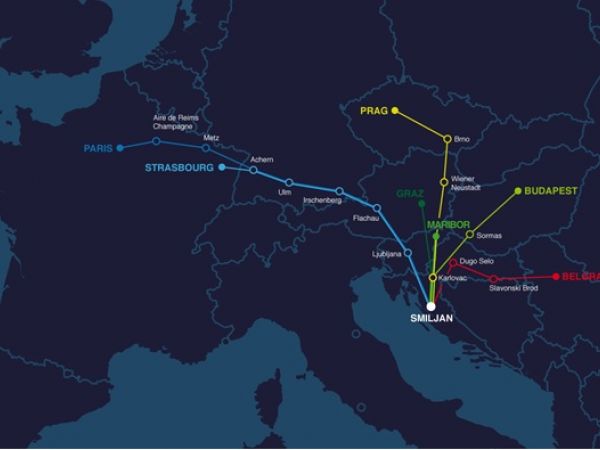 How to create a positive experience for visitors and locals of Lika?
Nikola Tesla left us an answer!

More and more companies are choosing to travel sustainably and as much as possible eco-friendly. They are including this ethos for travel involving their employees and partners.

This program is created to best combine the newest technologies with the traditional way of life and at the same time, it raises environmental and cultural awareness.

The routes in the program start in European countries where Tesla was living during his lifetime: France, Austria, Slovenia, Hungary, Czech Republic, and Serbia as well as Croatia where he was born. All the routes end in Smiljan, the birthplace of Nikola Tesla.
Tesla Model X is the ideal vehicle to travel across Europe with a minimized pollution impact.
On 10th July, Tesla's birthday, guests are scheduled to arrive to Smiljan, where they will see firsthand Tesla's birth house and natural surroundings that had a huge impact on his way of thinking.

Tesla said that people are designed to live to almost 140 years if they eat the right food. Guests will enjoy all the traditional food Tesla ate: potatoes, milk, cheese, polenta, vegetable prepared traditionally...
Besides eating well, Tesla said that people should walk a lot for longevity. He used to walk 16 km per day.

A guided walking tour around National park Velebit is one of the truest experiences with nature that you can find in Europe. With the help of the professional storyteller guide, it is a chance to hear many untold stories about Tesla's childhood in Smiljan and Gospić.
If you prefer not to walk, you can also explore the natural surroundings in kanoo on the very relaxing and peaceful river Gacka.

On the 10th of July, the locals will prepare a traditional celebration of Tesla's birthday. By participating in it, guests will raise sensitivity to the host's culture and traditions.

One part of the celebration is planting a new Tesla forest close to his house - every year new trees will be planted, matching the number of his celebrated years. The trees will be bought with money raised through savings of CO2 emissions on the routes
This way, everybody will get their tree with the name of the person or company that planted it.
The planted tree can be revisited at any time and volunteers form Nikola Tesla camp will be taking care of it all year long.

When in Smiljan, guests shouldn't miss a chance to visit Skradin and Šibenik, among the first cities in the world illuminated by alternate currency or and Karlovac, the city of Tesla's first inventions, his high school, and Tesla Experience center. Also, in Zagreb, they can find a very interesting museum dedicated to Tesla.

This is a core of the program but can be extended to many other sites that are connected with Tesla's life if the guests wish to do so.

The program is intended for "green" individuals and companies admiring Tesla and maybe wish to provide financial support for local communities and sustainability projects.
Image Gallery - click on the image to enlarge
Tours - All